Everyone loves a clean, shiny floor. Let us help make your wood and laminate floors look brand new. Our mission at Guarantee Carpet Cleaning is to provide you with the most outstanding service experience ever. Trust the best in the business when looking to get your wood and laminate floors cleaned and looking like new!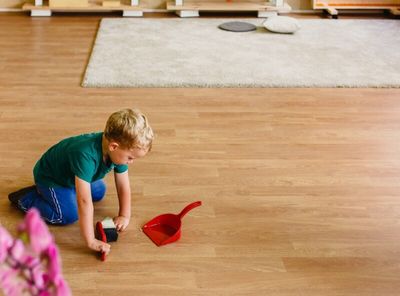 Take A Step Forward In Choosing Guarantee Carpet Cleaning For Your Wood & Laminate Flooring Needs
The first step in getting your wood/laminate floors cleaned is meeting with one of our expert cleaning technicians and doing a walk-thru of all potential service areas. Once all areas are previewed and questions are answered, an estimate with the price will be given to the customer before any work will be started.
When the estimate is looked over and it is decided that you want Guarantee Carpet Cleaning to make your wood and laminate floors look brand new, we then ask the customer to do the following:
Please pick up clothes, shoes, magazines, etc. and also, remove any breakables from coffee tables, light stands, etc.

Please sweep the floors.

Out of respect for our cleaning professionals, please put pets away in another area that we are not cleaning in.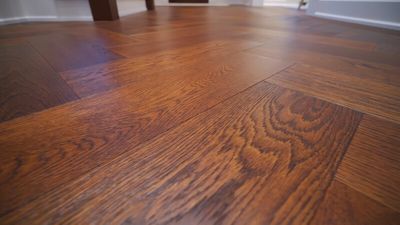 Our Professinal Process
Apply cleaner by lightly over spraying your wood and/or laminate floor(s) with a mild cleaning solution just for wood or laminate floors.

Take a 10'x10' area and move any furniture out of said area, spray the cleaning solution in the area.

Using a cotton pad that is attached to our scrubber, we will go over the floor surface r with a back-and-forth motion. The cotton pad will absorb all dirt, grime and debris, plus the cleaning solution.

Then, we will place a fan on the floor for about 10 minutes. Then, dust mop your floor.

Furniture will be moved back to the area that it came from and we will proceed to the next 10'x10' area. We will repeat this process until all areas are complete.

Please note: Our process only cleans your floors, it will not remove scratches!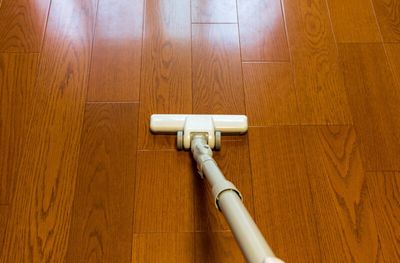 Further Care Instructions
Guarantee Carpet Cleaning is happy to help with every step of the way in maintaining your floors. Some helpful tips that we have to offer are:
Cleaning solutions are all over on the market, some places you can find products to clean your wood/laminate floors are at Home Depot, Ace, Home Works.

A Swiffer works wonderful, the head and pole only.

First, dry mop your wood floor with a soft bristle broom or dust mop.

Using the cleaning solution of choice, apply 1 to 2 squirts on the head of the Swiffer. Clean the area in a back and forth motion for 2-3 times. Once that area is done, move onto the next area repeating the process.

If too much cleaning solution seems to be on the floor, use a cotton rag to remove it.

It is based on personal preference of whether or not you want to move furniture each and every time you clean your wood floors, however, it is not necessary to move furniture each time. This could also depend on whether or not pets are present and usage)

Try to avoid using too much cleaning solution on the Swiffer, as you do not want the cleaning agent to build-up on your floors.
Helpful Hints From Us To You
Be sure the cleaning product is approved for wood and/or laminate floors.

Avoid applying the cleaning solution directly onto your floors. This is very important as you do not want the build-up on your floors.

Be sure to use walk-off mats/rugs at all outdoor entrances.

If any liquid is spilled on wood/laminate flooring, be sure to pick it up immediately!

If a pet is present and leaves a mess, it also needs to be cleaned up right then and there!

Make sure pets' toenails are groomed well to avoid scratching your hardwood floors.

Dust, vacuum or sweep daily in walkways. In certain areas, specifically Wood County, sand is very present in the area and on your shoes. If sand is not picked up, it acts like sandpaper on your floors. Yikes!

Preventative maintenance on your floors is the best. To keep them looking great do all of the steps above, plus have Guarantee Carpet Cleaning clean your wood and laminate floors every year!
We are always willing to help in any area that we are needed, plus answer any questions. If you have further questions, comments or concerns you are welcome to contact Gary Thompson directly at 419-601-1517 between the hours of 9:00 AM and 6:00 PM. Also, in case of a water emergency, do not hesitate to call as we have 24-hour emergency service!