Furniture and Upholstery Cleaning
Put our cleaning expert to work.
We clean most upholstery including: sofas, chairs, sectionals, dining room chairs, office partitions, awnings, outdoor furniture, or just about any fabric or cushion. Furniture and carpet are arguably the most comfortable and most often used items in our homes. How many times have you, your spouse or kids curled-up on your sofa for a good movie. How many times have you worried about the number of dust mites that may be living in those fabrics…curling up next to you too?
Furniture is one of the most overlooked and under-cleaned items in homes. Furniture is an investment and often enjoyed daily. As most parents of children and pets can attest everyone enjoys curling up on a comfortable piece of furniture. As a result of continuous use, sofas & chairs can harbor dust mites, allergens and many common soils. Regular vacuuming and routine professional cleaning can remove many of those items leaving your home healthier and the fabric with a brightened appearance. Whether your furniture is your child's playground with peanut butter or if your davenport is older than your grandkids, let us help remove dust and contaminants and restore your valuable investments. At GCC, use the same proven method for furniture cleaning (fabric) as carpet cleaning. We use a small, 2 foot wand with hot water and kid friendly cleaning solution for hard to reach places. We will perform a color fast test on a small area of your couch before we begin, vacuum the debris, pre-treat stains with our several spot removers. and clean all surfaces of the fabric, including all sides of detachable pillows.
Call today for an estimate or to schedule your cleaning!
Before and After Upholstery Cleaning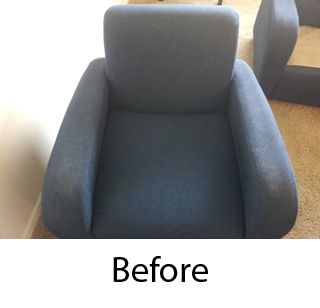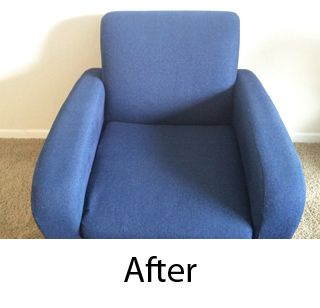 Furniture and Upholstery Cleaning Services Process and Procedures
1. Customer will be greeted by one of our expert cleaning technicians and will be asked to walk through their premises and guide the technicians in the areas they would like the furniture and or upholstery cleaning to be conducted/performed in.
2. Technicians will visually inspect all pieces of furniture. If furniture is on any hard surface or has been placed on any newly installed carpet the technicians will lift furniture and place a plastic tarp to ensure no cleaning product will drip on the surface.
3. Technicians will remove all cushions and if pet hair is noticeable will dry vacuum entire piece. They then will proceed in scrubbing and extracting all surface areas with our furniture cleaning equipment until entire piece has been completed. Technicians will then wipe down the furniture with a rag to ensure no cleaning products/over saturation remain on fibers of the furniture.
4. Protection and deodorizer are available upon request at an additional charge and may be applied to pieces once cleaning process has been completed.
5. Technician will have customer inspect all work that has been conducted and proceed to answer all concerns or questions customer might have.
6. Temperature should remain between approximately 72-75 degrees and air movement (fans) is recommended for the drying process.
Upholstery Cleaning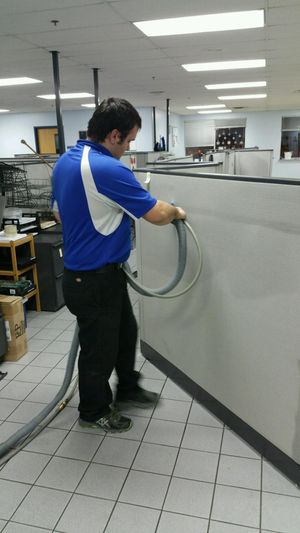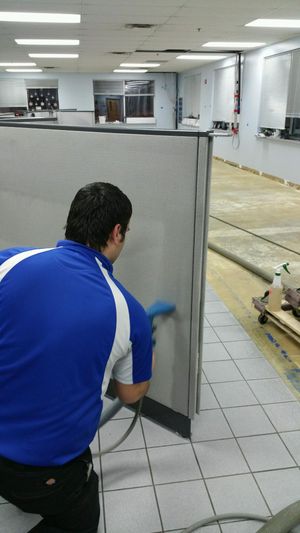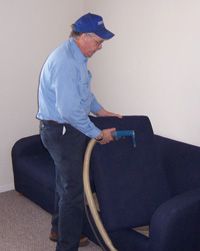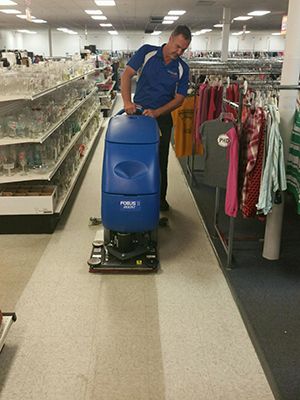 VCT Tile Cleaning
VCT tile cleaning has been the foundation of our commercial cleaning business for over 30 years and we have countless repeat customers. We started out stripping and waxing tile by hand and using round auto scrubbers, today we use advanced cleaning products and industry leading walk behind auto scrubbers that uses pressure thus less harsh chemicals. Whether it was 30 years ago or today, the result is the same, clean beautiful shiny floors with 5 layers of new wax.
What are you waiting for? Request a Quote Today!