Services
Carpet, Flooring, VCT Tile, Upholstery, Water Restoration and Janitorial Services
Whether your cleaning needs are residential, apartment, or commercial, Guarantee Carpet Cleaning offers you the finest carpet and upholstery services available. We use hot water extraction method that has proven itself over the last 36 years. We are proud of our A+ rating by the Better Business Bureau and strive to provide an excellent service at a fair price. Our goal is to provide our customers with the highest level of service and expert cleaning possible.
Hardwood & Laminate Floor Cleaning
Proudly Serving Wood, Lucas & Hancock Counties Since 1982
Guarantee Carpet Cleaning's mission is to provide you with the most outstanding service experience ever. We have been in business since 1982. We have decades of experience, a great reputation and truly love what we do.
Carpet is an investment and comes in many different variations with customer's unique needs. Some of our customers are factories with short nap, very tight carpet with extreme wear to moderate apartments or giant mansions with expensive plush carpets.
Whether your job is large or small we have the knowledge and skill to serve you. Because we have been in business for over 3 decades, we continue to provide our customers with a 100% money back guarantee. We guarantee you will experience the most thorough carpet cleaning ever or its free.
We use the same carpet methods now, that we started the business with. Our method is called the Bane-Clene method. We pre-spot the entire carpet and using a solution hose and an extraction hose our technicians will glide across the carpet with a metal wand. The soil is removed via the water and suction, and you are left with a clean, safe and slightly damp carpet. Carpets take 8-10 hours to dry completely. Fans and good air flow will speed this process up. Our process is often referred to as steam cleaning, even though we use hot water and not steam. Our state of the art truck mount keeps the water warm/hot while the technicians are driving. We bring our own water and take the dirty water back with us.
Our system is time tested and proven to work or your money back. We have had the pleasure to serve Perrysburg, Bowling Green, and Pemberville, Ohio for over 34 years and we plan for many more years to come.
Let us know how we can better serve you and your family. We are the best carpet cleaning company near you. Call or submit an estimate request online.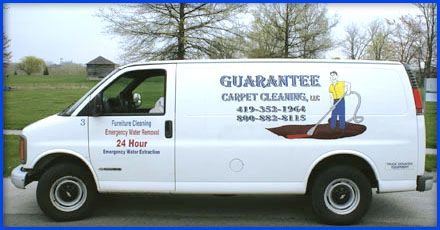 The Top 10 Reasons To Hire Guarantee Carpet Cleaning
We have 37+ years of experience
We were voted "Best in Wood County" the last 14 consecutive years
Our Technicians are highly trained and experienced in commercial/ Industrial work, as well as residential
We have a 100% satisfaction guarantee
We are prompt, local & friendly
We work after hours to accommodate your business needs
Faith based integrity & business practices
A+ rating by the Better Business Bureau
We bring our own water
We have many satisfied customers
Learn More About Guarantee Carpet Cleaning
What are you waiting for? Request a Quote Today!