Frequently Asked Questions
Q: How long does it take for the carpet to dry after cleaning?
A: While many factors such as humidity, ventilation, air movement, type of carpet, etc. affect drying times, normal drying time is six to eight hours.
Q: Do you "dry clean" carpets?
A: The term "dry cleaning" is misleading in that some water is used in all cleaning processes. A method that is marketed as "dry cleaning" by a large franchise company uses carbonated water sprayed on the carpet, in theory, to suspend soils. The carpet is then gone over with a spinning pad called a bonnet. This method is an adaptation of hard surface floor cleaning used on carpets. This method is NOT recommended by any major carpet maker. In its maintenance literature, the world's largest carpet maker, Shaw Industries, warns against using this method, particularly on cut pile carpets. It has very limited potential for soil removal, as no real extraction is utilized. The spinning pad can also cause swirl marks and fiber distortion.
Q: My carpet is a Berber style, can it be safely cleaned?
A: Yes. Our Bane-Clene® cleaning method is endorsed by more than fifty major carpet makers as the best way to clean any carpet.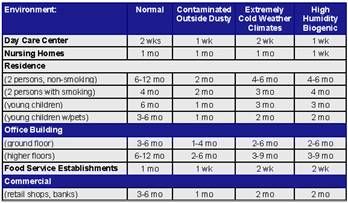 Q: How often should carpets be cleaned?
A: The chart to the left shows the cleaning interval recommendations of the United States Environmental Protection Agency. These frequencies have been determined to provide optimum indoor air quality.
Q: Will carpet get dirty faster after it has been cleaned?
A: No. This old wives tale can be traced backed to the days when carpets were cleaned with the shampoo method. The shampoo residue did cause rapid re-soiling. Today's modern synthetic detergents do not leave a sticky residue behind. Our Bane-Clene® system uses only a small amount of very effective cleaning agent and recovers over 95% of all moisture used. The end result is a clean carpet that will stay cleaner longer and be better able to withstand future soiling. An application of Sta-Clene™Carpet Protector 940 is also recommended after cleaning to restore soil and stain resistance that wears off over time.
Q: What local areas do you service?
A: We proudly provide carpet cleaning services as well as water removal and restoration to the Toledo, Bowling Green and the surrounding areas, which includes Wood, Lucas, Hancock, Henry, Allen and Seneca counties.
Important Tips For Selecting A Professional Cleaner
A common misconception is that all cleaning services are alike. The truth is that a wide range of quality levels are available. Some cleaners specialize in commercial cleaning, and only do residential work to fill in their schedules. Others are "coupon" cleaners whose business strategy is to distribute large quantities of coupons offering remarkably low prices. Typically, their intent is to round up a large group of customers quickly in a specific geographic area, schedule as many jobs as possible in the target area and work as quickly as possible to get on to the next job. A few firms (such as Guarantee Carpet Cleaning) specialize in the responsible care of carpet or upholstery that is considered an investment. Choosing the right vendor for you may take some time, but the results are worthwhile.
When choosing a professional cleaner, it is important to feel confident about who is coming into your home. Ask if the cleaner is familiar with your type of carpet or upholstery. If you consider your floor coverings and furniture an investment, you probably will not want a "coupon" cleaner. Make sure the cleaner you choose will treat your carpet individually. When calling a cleaning company, is the person you speak with on the phone polite and knowledgeable? How does the technician greet you at the door? You should be addressed with respect, as "sir" or "ma'am." Is the technician dressed professionally? Is their vehicle clean? Does the technician conduct a thorough evaluation of your carpet and go over it with you prior to beginning any work? Does the company have testimonials or references from qualified people or professionals? These are all important questions to ask when choosing the best service for your needs.
What are you waiting for? Request a Quote Today!