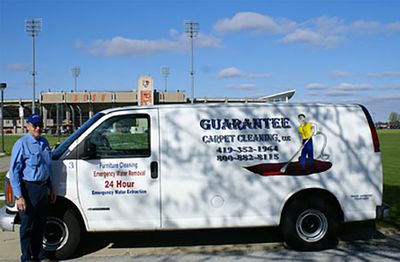 Flood Damage Restoration
The Federal Emergency Management Agency (FEMA) reports that flooding is one of the top causes of property damage. It can happen unexpectedly and often catches property owners off guard. In the event of a flood, your first priority should be your safety and the safety of your loved ones. Turn to us for quality flood damage restoration services. Our highly-trained professionals handle the dirty work so that you can focus on what truly matters.
We employ fully-vetted, skilled professionals who are equipped with cutting-edge technology and use advanced methods to restore a property. Customers receive a comprehensive consultation wherein our team carefully inspects the property and assesses the damage. We create a detailed restoration plan so you can make informed decisions about your home or business.
We understand that when it comes to our clients, we're not just repairing their home or business, we're Restoring What Matters Most™—their home, their sense of safety and comfort. We are passionate about what we do and it shows in the quality of our work. Allow us to go above and beyond to exceed your expectations.
Common Flood Damage We Treat:
Cracks in the walls and flooring
Black water removal and clean up
Carpet and upholstery damage
We are here to help
Flooding can be dangerous and stressful to deal with. With the water levels rising, it's difficult to know exactly where to start in protecting your home or business. At Guaranteed Carpet Cleaning, we want our clients to be prepared and safe, which is why we offer a few steps they can take after a flood.
Call us at 419-352-1964 to schedule a consultation to discuss our flood damage services.
What To Do After Flooding
Make Sure You're Safe
Heavy flooding has the ability to be very dangerous. Make sure you and your family are in a safe environment. Avoid electrical outlets and other areas where the water may touch electricity.
Secure Your Valuables
Make sure your valuables, including important documents, photos, and treasured belongings, are safe. Place them in plastic bags and areas where the water won't reach.
Take Pictures
Before you mitigate the water or start moving anything, take pictures of the damage. This will be important to show your insurance company.
Call Guarantee Carpet Cleaning
Our flood damage restoration specialists work quickly and efficiently to remove water, assess the damage, and restore your property to its original state.
Water Mitigation and Flood Restoration Services
1. Find the COL "cause of loss" that caused the initial call and ask customer if repairs have been made. This would include pipes bursting, Sump Pump Failures, Sink malfunctions etc. Repairs must be conducted prior to mitigation work being started.
2. Technicians will inspect all flooded areas in facility that are and could be potentially affected.
3. Analyze moisture content and atmospheric readings. This process allows technicians to get a scope on what materials are contaminated and which materials could be salvageable.
4. Document and record all work and equipment needed to meet drying standards. At this time technicians and customer will discuss if contacting insurance provider will be needed. If customer decided to file a claim Technician will contact Mitigation specialist/adjuster and inform work and time needed to complete drying goals.
5. Perform Water mitigation as needed. This process varies depending on the cause and extent of the water filtration. This process could include removing carpet and pad, removing drywall/insulation, and removing any other building materials heavily effected by water filtration.
6. PACK OUT – If any furniture has been affected from water loss it will need to be removed from the direct area for the drying process to continue and then be moved at the customer choice of location. Preferable a garage or unaffected area away from mitigation work being conducted.
7. Place drying equipment in affected areas and monitor drying. Dehumidifiers and Air movers will be placed in affected areas to enhance drying.
8. Follow this process time and monitoring of equipment/drying will be needed to be conducted daily until drying goals have been met.
9. Lastly, Insurance will be contacted for the closeout once work has been completed and drying goal has been met to standards. All drying equipment will be removed, and technicians will inform customer of all work that has been conducted.