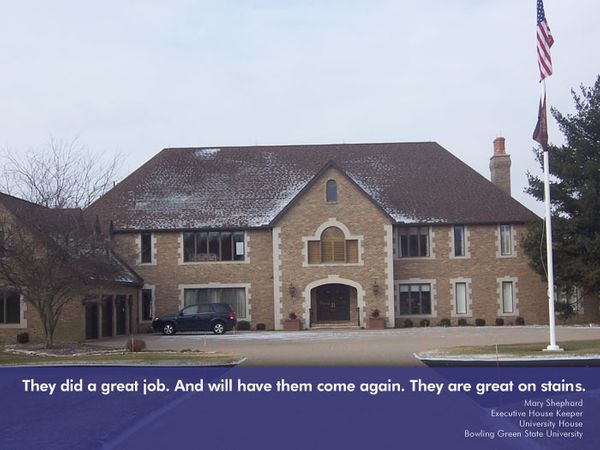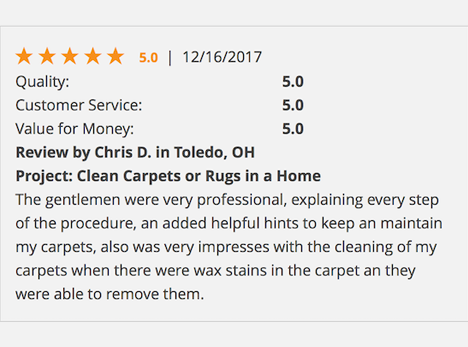 Bob, Bowling Green
"We appreciated the prompt response in undertaking the clean-up of our basement and the removal & disposition of our old carpet. All personnel were very professional as well as courteous and helpful, especially Gary."
Michael, Grand Rapids
"Your service was better than expected. The results were awesome. I had planned on replacing the carpet, but your cleaning made that unnecessary. Jason is a fine young man. I will definitely use you again. Thanks."
Julie, Bowling Green
"Thanks for accommodating my time schedule! Both guys did a great job- very thorough and efficient. Thanks!"
Mary, Bowling Green
"There are no other carpet cleaners as far as I'm concerned!"
Vera, Pemberville
"There were several unspecified stains on the cream colored carpet. All of them came out. The gentlemen were exactly on time. They treated my house with respect."
Judy, Bowling Green
"I have had the carpet cleaned by other companies, but it never came as clean for them as it did with your system. And I like doing business with Christians."
Mary Jane, Bowling Green
"Very prompt, courteous, and efficient. Very satisfied with results. Thank you."
Joe, Bowling Green
"You did a very good job on our carpets. I was very pleased."
Tracy, Bowling Green
"Beautiful Job! Affordable & worked at my convenience."
Stacey, Weston
"You are always prompt and professional. You have gotten some awful stains out of my carpet. I am always pleased with your service."
Ryan, Tontogany
"Everything was cleaned beyond our expectations. Our carpet looked brand new after it was done. It was great! Thanks!"
Gail, Bowling Green
"We were completely a 100% satisfied with the service we received. Our carpets look new! We will definitely use your service again & again & again! Thanks!!"
Carl, Bowling Green
"We just bought this property and thought we had to replace the carpet. When you finished cleaning our carpet, it looked like new!!! Thanks."
Elaine, Weston
"I really do appreciate your prompt service- I call at the spur of the moment and you can always accommodate me. I also like the friendliness of the service technicians and the cleaning job is always fabulous. Thanks for your service in our area."
Gary, Bowling Green
"We were just talking last week on how glad we had our bar stools treated with MicroSeal. No matter what our grandson drops on the fabric a quick wipe and it is all gone."
Diana, Findlay
"We had some problems with a stone floor and they fixed it. They were there the next day after I tried to schedule, did several tests on the stone, and within a week our stone floors in the whole house are looking like new! I am stressing stone as it is not ceramic. I had contacted the business who installed the stone and he said there was no solution. There was!! Thank you Guaranteed!"
What are you waiting for? Request a Quote Today!